Osgood Schlatter's Treatment Gets You Back To Sports In A Week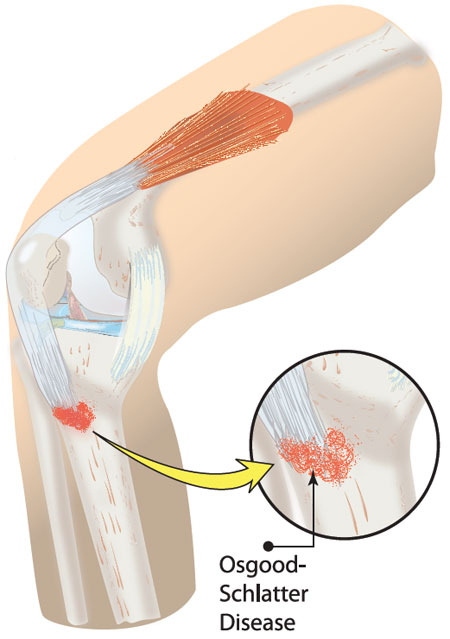 Osgood Schlatter's knee is a condition where the tendon below the knee cap becomes inflamed and partially pulls away from the bone.  Until recently, it has been a perplexing injury for doctors to treat.  Care usually consisted of rest, anti-inflammatories, icing, wraps and bracing.  Athletes are often held out of their sport for as long as 6 months until it heals.  And, it often comes back once activity is resumed.
But now, a method has been developed that actually re-packs the tendon onto the bone and allows it to heal almost instantly.  Most athletes can return to activity within a week.
The treatment does not require medication or surgery.  The doctor uses his hands in a special way to manually push the tendon fully onto the bone.  Dr. Paul Kramer who performs the treatment in his Germantown, WI office says "The treatment itself takes less than 3 minutes to perform.  Most people need between 1 and 3 treatments.  Relief is felt immediately and you can get back to activity in a week. The treatment is most often a permanent fix, but on occasion we have had athletes come back for a treatment a few months later."
There are no side effects, but Dr. Kramer does add, "It is somewhat painful to have done, but if you can handle 3 sets of 30 seconds or less on each knee, you will walk out of the office with much less pain and in a week, you won't ever know you had it.  Most athletic children handle it and respond very well."
Dr. Kramer offers free Osgood Schlatter Evaluations at his Germantown office.  If you are interested in an Osgood Schlatter Evaluation, call Jennifer or Pat at 262-293-3790.
*****Google Review from Brad H. – "Dr. Kramer took very good care of our son who was having issues with his knees. He has condition called Osgood Schlatter's also known as "growing pains". Our son is very active in several sports and the discomfort was not getting any better. With the first visit our son immediately started to feel better. We have had several family members treated by Dr. Kramer and highly recommend him."